HOME
ABOUT ME
PORTFOLIO
6 STEPS
CONTACT
We provide hands-on coaching for organizations' to reach their performance through disciplined strategy development and strategy execution.
We support organizations to improve its Strategy and Strategy Execution Process. The coaching teams represented by experienced key strategy professionals.
STRATEGY
EXECUTION
PERFORMANCE MANGEMENT
Postal address:
Dietmar Huber - c/o Familie Böhme
Am Rebberg 14
77728 Oppenau (Germany)
Residental address:
Dietmar Huber – Villa 109B
Al-Bustan Village 3010 – Al Arid Unit No: 2 AR Riyadh 13332
7663 Kingdom of Saudi Arabia
STRATEGY DEVELOPMENT
+49 (0)160 97794764 or +966 (0)55 8883841
dietmar-huber@t-online.de
www.strategy-academy.de
DIETMAR HUBER
Dipl.-Wirt. Ing. (FH), MBA
Senior Management professional for strategy development and strategy execution.
Practitioner with more than 15 years' experience in management and leadership in the field of Strategy Development, Strategic Planning, Performance Management and Finance.
Strong record of increasing significant profitability and improving operational efficiencies across a number of different industrial sectors, geographies and multicultural environments.
Details: https://sa.linkedin.com/in/dietmar-huber-46677431
THE 6 MAJOR STEPS TO EXCEL STRATEGY AND STRATEGY EXECUTION
Execution is a discipline, and an integral part to strategy. The biggest obstacle to achieving good strategy execution is the lack of well-defined process and tools to manage the translation of strategy into targeted and synchronized cross-functional execution.
How does a Balanced Scorecard approach support execution?
Align business activities to vision and strategy
Improve internal & external communication
Used to monitor organizations performance
Provides management with comprehensive picture of it's operations and
Provides strategic feedback how strategy execution is progressing
>> That's why it's important to have a strong Strategy Execution Framework and a toolkit!
Provide

Strategic Direction

– what's important?



Communicate

and

Translate

the Strategy

into a Strategic Plan – set the goals!


Organizational and Strategic Alignment by defining the right measures



Plan Operations

– link with operations to execute


Governance



Provide Insight

by analyzing the environment
Based on BSC methodology by Kaplan & Norton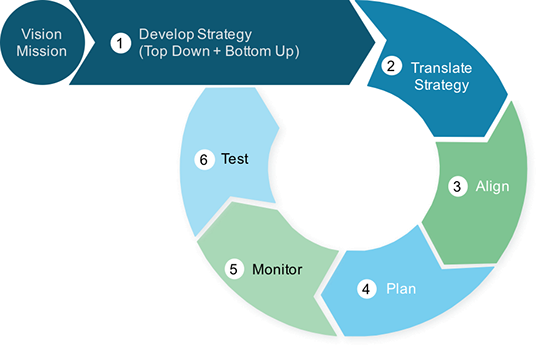 +49 (0)160 97794764 or +966 (0)55 8883841
dietmar-huber@t-online.de
www.strategy-academy.de
Postal address:
Dietmar Huber - c/o Familie Böhme
Am Rebberg 14
77728 Oppenau (Germany)
Residental address:
Dietmar Huber – Villa 109B
Al-Bustan Village 3010 – Al Arid Unit No: 2 AR Riyadh 13332
7663 Kingdom of Saudi Arabia